Semantic Web Workshop - ISNID
Inferential Semantics for Networked Image Data:
Supporting the Derivation and Management of Semantic Attributes for Web-Based Multimedia Content
Harold Boley (DFKI) and Jos De Roo (AGFA)
Background (AGFA and DFKI)
Building the future (taken from Tim Berners-Lee)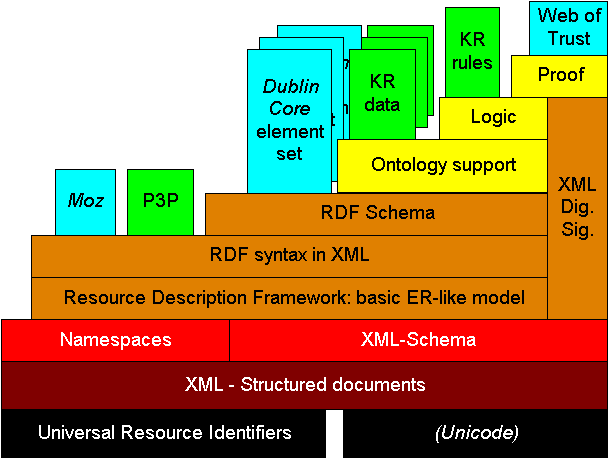 Problem
In practice, there is a lot of simple rules that can operate on a combination of extracted image features (obtained via image analysis) and additional image-related data.
The implicit meaning in image data can thus be made explicit.
We study the issue of how to infer (only) meaningful facts from networked image data.
In the non-distributed case, the semantics of some centralized image data can be regarded model-theoretically, as the set of facts whose deduction is sanctioned by the given rules.
For example, rules can infer the transitive closure of a centralized 'connected' attribute. In the distributed case, we usually have an open network of image data, for which no model-theoretic semantics exists.
In the example, the transitive closure of a distributed multi-sensor-derived 'connected' attribute may never form a single stable set.
Proposal
We thus propose tailored, "least power" mechanisms for inferencing with attributes specific for images such as topology, gemometry, texture and color.
These mechanisms will be layered such that the appropriate mechanism is easily identified for each given task (e.g., a functional mechanism will be used for computing with measurements, thus avoiding relational search whenever possible).
The work will be done on the basis of real-world (Agfa) image examples and their annotations. The examples will be classified along relevant dimensions, e.g. according to descriptive complexity, for testing the layered inference mechanisms.
Architecture
Furthermore, to exploit the networked character of the given (Agfa) image data, we will study a "Webized" architecture for distributing inference mechanisms over appropriate subsets of input data, and for channelling output data to possible further processing steps.
For this, metadata content and capability descriptions of, respectively, data and mechanisms will be explored.
We envisage an efficient, platform-independent Java implementation of the developing inferential semantics for networked image data.