W3C and the Semantic Web
2002-03-06
by Jos De Roo of AGFA

W3C Semantic Web Activity
A key activity of the World Wide Web Consortium W3C (inventor T.Berners-Lee)
W3C

develops interoperable technologies (specifications, guidelines, software and tools)
to lead the web to its full potential
as a forum for information, commerce, communication and collective understanding

The semantic web

is an extension of the current one
focuses on the meaningful content of web pages
creates an environment where software agents roaming from page to page carry out sophisticated tasks for users
becomes a place where data can be shared and processed by automated tools as well as by people
W3C SW Activity - Goals
Design of technologies that support machine facilitated global knowledge exchange.
Making it cost-effective for people to record their knowledge.
Focus on machine consumption
"The bane of my existence is doing things that I know the computer could do for me."

-- Dan Connolly, The XML Revolution
W3C SW Activity - Structure
W3C SW Activity - Approach to Deployment
A lot of hard work - and a bit of luck
Foster an environment for effective cooperation and collaboration
Establish guiding architectural principles
Facilitate the design of enabling standards and technologies
Understand policy implications
Focus on short term deployment
Eye toward longer term research issues
SW Architecture
Web

URI->Resource static mapping
Creates navigable "space"
Shared space = new genre of communication
Self-describing documents
URIs as identifiers not recipes

Semantic

Machine processable

not natural language, human inference

For data: what you can do with it
For the future: conversion
Declarative
SW Principles 1: Everything identifiable is on SW
All resources have identity
People, places, and things in the physical world have online representations identified by URI's.
URI's support participation, effective integration and are contextualized in SW.

SW Principles 2: Partial information is tolerated
The current Web is unbounded.

Sacrifices link integrity for scalability.

The Semantic Web it unbounded.

Anyone can say anything about anything.

There will always be more to discover.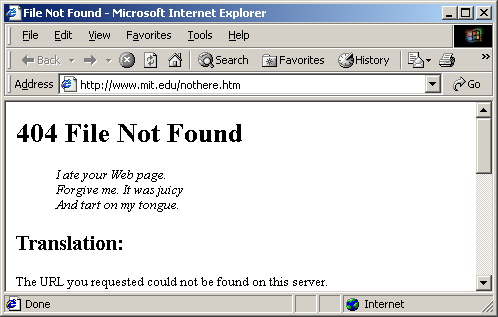 SW Principles 3: There is no need for absolute truth
All statements on the Web occur in some context.
Applications need this context in order to evaluate the trustworthiness of the statements.
The machinery of the SW does not assert that all statements found on the Web are "true".
Truth - or more pragmatically, trustworthiness - is evaluated by each application that processes the information on the Web.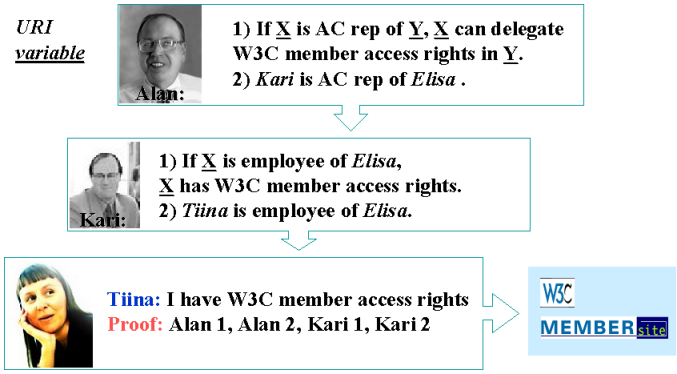 SW Principles 4: Evolution is supported
Allow effective combination of the independent work of diverse communities.
Support the ability to add new information without insisting that the old be modified.
Provide communities the ability to resolve ambiguities and clarify inconsistencies.
Use descriptive conventions that can expand as human understanding expands.
SW Principles 5: Minimalist design
Make the simple things simple, and the complex things possible.
Enable simple applications now that plan for future complexity (eg. Dublin Core, RSS, MusicBrainz)
Standardize no more than is necessary.
Result more than the sum of the parts
Enabling Standards & Technologies - Layer Cake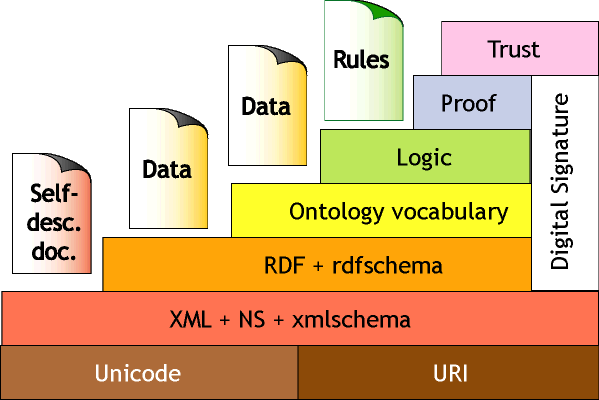 RDF Core Working Group (RDFCore)
RDF provides a common framework for representing metadata across many applications.
Clarifies and improves RDF's abstract model and XML syntax according to implementor feedback.
Completes the RDF vocabulary description in the RDF Schema Candidate Recommendation.
Explains the relationships between the basic components of RDF (Model, Syntax, Schema) and the larger XML family of recommendations.
Minimalist model - (thing), Class, Property
Subproperty, Subclass
Domain & Range
Comments & labels
Very wide interoperability
Web Ontology Working Group (WebOnt)
Standardize means for defining ontologies that can be used on the Web.
Builds on RDF Schema (classes and subclasses, properties and subproperties)
Extends these constructs to allow more complex relationships between entities (e.g.):

limit the properties of classes with respect to number and type
means to infer that items with various properties are members of a particular class
a well-defined model for property inheritance

Input from the DAML+OIL work supported by DARPA's DAML Initiative
More metainformation, such as

Transitive property
Unique, Unambiguous, Cardinality, etc

Ontology community exists- DL, OIL, SHOE, etc. etc.
Huge extra usage for extra functionality
Not Turing complete
Wide interoperability & interconversion
Logic layer
Universal language for monotonic logic
Any rule system can export, generally cannot import
No one standard engine - inference capabilities differ
Many engines exist (SQL to KIF, Cycl, etc)
Any system can validate proofs
SW Public Forums
SW Advanced Development - Goals
Explore pre-competitive, prototype ideas
Venue for liaison with research community;
Inform, be informed, nudge, be nudged
Testbed for early implementations of Working Drafts
Collaborative development environment for the Team and Members to explore ideas together
Stimulate the development of more Semantic Web infrastructure components
SW Advanced Development - Areas
Developer's Tools
Resource Description
Annotation, Collaboration, and Web of Trust
Access Control Rules, Logic and Proof
Calendaring and Scheduling
Work-flow and Dependency Tracking
Transformation and Extraction Utilities
Integration with XML infrastructure
SW Bus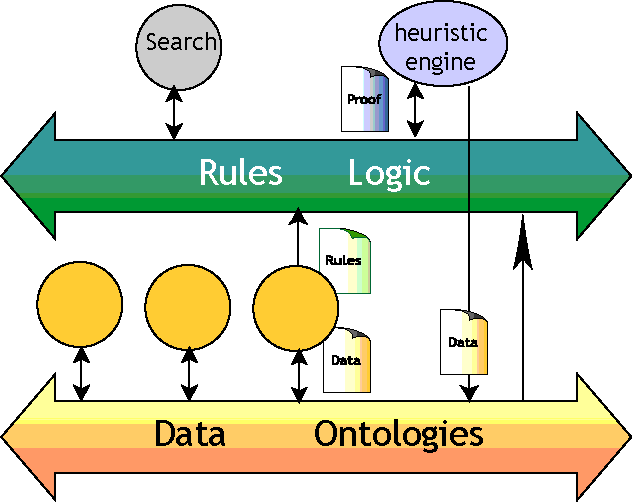 Examples of Running Code
research component to support logic based proofs.
Prolog unification (substitutions, unifiers) & resolution algorithm & backtracking
Euler path detection
"existential introduction rule" generation (w.r.t. RDF bNodes)
unification of variable predicates
use as much as possible from DanC's and TimBL's SWAP
Conclusions
W3C Semantic Web efforts build common infrastructure
First supports simple and then more complex systems
Offers optimal reuse of data in networked environment
More formal understanding of these relationships however are still required
Thanks!